Yes! There's WiFi! Now that we've got that out of the way, your teen will actually listen to us! 
Everyone loves a family vacation, especially when Silverwood is on the agenda. But when planning a trip to the park, sometimes parents, teens, and even little kids have differing opinions on which attractions to hit. 
Parents, if you're visiting the park with teens this year, here's everything your teen wants to know about Silverwood. From the best deals on grub to the cheapest arcade games and insider tips to shorter lines at Boulder Beach and Coaster Alley!
Visiting Silverwood can quickly become the highlight of the summer for teens… that is, IF the day is done correctly! If you're traveling with multiple aged kids, be sure to check out the ideal day at Silverwood for all ages… but what do your TEENS want to know?
First and foremost, if you can plan your visit mid-week, you'll have shorter lines and be able to fit in way more rides and slides… and if you can plan for two days, that's undoubtedly even better (check out the Silverwood RV Park – it's got tent camping, too!). 
Once you get to the park, if you head straight to Boulder Beach as the gates are open, you're sure to get the maximum slides as possible. Our teens always hit up Avalanche Mountain and Ricochet Rapids (the two family raft rides) as these lines get longest during the heat of the day. Ricochet Rapids is a little more intense and can fit up to five riders at a time, the perfect size for a group of friends. 
Parents, before your teens run off, be sure to let them know the central location you'll be setting up camp, that way, you have a meeting place! I also highly recommend renting one of the Cabana's for the day! Also, parents, once your teens make a bee-line for the water slides, might I suggest hitting up the Float Up Bar inside the Lazy River for a tropical drink or beer!?
After an hour or so, your teen is sure to be starving, so grab a snack or two at one of the many dining options within Boulder Beach (Pablo's has some seriously large shareable-sized nachos!). And be sure to grab that souvenir water bottle early, you get free refills all day!
Once you're sufficiently water-logged, dry off and head on over to Coaster Alley to hit some midday roller-coaster action! For whatever reason, every time we're at the park, there seems to be a break in the lines just after lunchtime. How many times can you ride the new Stunt Pilot in a row?
Next up is a quick little break (if not for the teens, for mom and dad!). Grab a late lunch and take it to-go on the Silverwood Express. The train leaves every hour on the hour. Although your teens may groan at the idea of a train ride, I promise, deep down, they're glad for the entertainment and some time off their feet! Plus, you get to see real live buffalo! 
Once you exit the train (or if you have time before departure), be sure to pop into Curtis' Candy Factory to sugar-up those brains! Mom, there are some amazing truffles and bon-bons in there for you, too!
Hop off the train and head for the Country Carnival… one of my teens all-time favorite arcade games is the Shooting Gallery. It's just past the bumper cars and, if your teens are competitive at all, they'll love this fun game! 
Before evening rolls around (and you still have the afternoon sun to dry your clothes), I recommend stopping at all the water attractions. There are the Bumper Boats, Thunder Canyon and the Roaring Creek Log Flume. Yes, you WILL get wet!
Because I assume that most parents' feet will be aching at this point in the day, take a long dinner over at Chuck Wagon John's. That way, if your teen is itching for more rides, they're in the heart of Coaster Alley and can easily squeeze in a ride or two while you catch your breath. 
Another teen favorite and a great alternative to BBQ is to grab some pizza and watch a magic show at the Theatre of Illusion. Be sure to check showtimes earlier in the day, and show up about 30 minutes early to grab the best seat in the house and get your pizza ordered!
Once twilight hits, this may just be your teens favorite time of day. The coasters light up and the park is renewed with energy. Some magical way, even parents get a second wind and will be ready for more rides!
Soaring through the twilight sky will be seared into both teens and parent's memories alike, and you'll revel in those memories all winter long!
Last, but certainly not least, be sure to pop into the Ice Creamery for a "scoop" of ice cream to enjoy as you head out of the park. But be forewarned, one "scoop" in Silverwood terms equals five! (Mom, Dad, you'll want to grab a latte at Silverwood Coffee Roasting & Trading Co. just as you're exiting the park.)
Beyond that, your teens will want to check out this post on additional items to bring to the park, and this post on the 10 most Instagram-Worthy spots at Silverwood!
And that, my friends, is everything your teen wants to know about Silverwood… did I leave anything out?
Meet The Conductor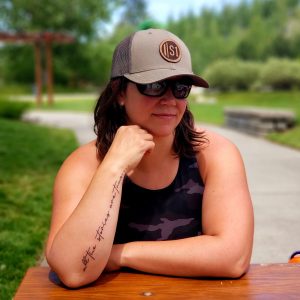 Kelsey Steffen is a wife, mom, and entrepreneur living in beautiful North Idaho. She has five rambunctious, loveable kiddos who bring excitement and joy to her every day. She and her husband, Jason, own Smalltown Design, LLC, a web management company, and they are blessed to be able to work from home and homeschool their kiddos. They also have a blog called Full of Days where they share (mostly) healthy recipes that fuel you to live a long life, "full of days". It's up for debate, but she's pretty sure the Lazy River at Boulder Beach is one of the best places on earth!"