Have you ever found yourself or the kids wearing down after a long, fun day at a theme park? Let's be honest, the pressure we put on ourselves as parents combined with our need to "get our money's worth" can often be the recipe for an extremely draining day at any park. Hot sun, standing in lines, remembering to stop for meals, and competing interests of the kids who seemingly have a knack for simultaneously craving rides and games at opposite ends of the park…is this ringing any bells?
Let me tell you how Silverwood adventuring as a local is a game changer. Here are the top benefits and strategies of taking advantage of Silverwood's season passes as locals.
1) No time crunches!
When you have your season passes, you don't need to dedicate the full day from open to close to feel like you are getting your money's worth. Busy schedules often make it a burden to find that kind of time anyway, but if you have a local pass, you can pop out there more frequently for smaller windows that maximize the joy and eliminate the drag and exhaustion. We love jumping out there in the evenings for just a couple of hours at Boulder Beach, and when it closes, we switch gears to get in a few of the kid's favorite rides.
2) Shorter Lines!
This is obviously true for rides, but the bonus is felt when entering/exiting the park as well. We have had the most amazing luck with these evening outings. You can't help but notice the thinning out that occurs in the evenings as that exhaustion sets in…especially for those with little kids out there for the bulk of the day. We will often run into friends who always comment about how busy it was earlier and how the lines "aren't bad at all at this point." Music to my ears.
3) More budget friendly for food and treats!
Listen, if you don't have to feed your kids 3 times a day at theme park prices, you can also avoid experiencing financial exhaustion.
It has been a lot easier to get excited about buying one meal a day or even surviving off their excellent treats. The ice cream shops and large funnel cakes are amazing and qualify as our family's personal favorites.
Easy to recommend the pizza family meal deal at the Theater Illusion Pizzeria or the Country BBQ restaurant when you need something a little more sustaining for your meals.
(PS…the kids always love the magic show!) My favorite money-saving tip is for the drinks. Locals should absolutely buy a couple of their sports bottles. You basically pay $10 for
the bottle and receive unlimited refills that first day and then $0.99 refills for the rest of the life of the bottle.
You would be impressed with the amount of Lemonade we will enjoy on one of these outings…LOL. This has been a great way for us to stay hydrated without breaking the bank on our frequent trips out there.
4) No burn-out here!
Honestly, this is the most fun I think we have had in years. The kids have been loving and craving the trips out there, and Todd and I are genuinely looking forward to these evening outings as well.
I am not ashamed to admit that we are even sneaking out there for our own date nights without kids but do me a favor and don't mention that to my kids. Having season passes to Silverwood has been so amazing! Thanks for reading and maybe we'll see you at the park soon!
Meet The Conductor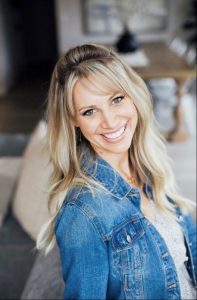 I'm a Mom to 6 amazing kids and have been married to my husband Todd for almost 19 years! We live in Coeur d' Alene Idaho. I enjoy spending time creating beautiful spaces in my home and others! I share all the details on my Instagram account @myhouseof8. We enjoy our adventures at Silverwood and am so excited to be teamed up with them.