Congratulations. You're planning your trip to Silverwood.
I've had many people ask us over the years. "How the heck do you do those long lines?!" "Don't you get bored?!"
If you're anyone like me, waiting in a stationary manner has to be the most boring thing on the planet. You're just standing there like a sack of potatoes waiting for the line to move closer to its goal.
Well. I've decided to piece together 5 simple tips and tricks to help you on your busy Silverwood day.
1. Study the map
I know this may seem self-explanatory, but learn the map! There are a few little gem spots to sit in peace and quiet or shortcuts to another ride. Studying the map is where it's at!
 As you enter the park, they have a map stand. Feel free to grab one of those, or you can scan the QR code and use that on your phone for even easier use. So that's basically a win all around, and then you don't have to worry about the eventual moment when your kid drops the map on the floor, and it's gone.
 2. 
Plan your next ride
Do it. Plan the next ride, attraction, or activity that you'd like to do. Bare in mind roughly how long it will take you to get to your next point of interest. For example, you're not getting on Aftershock at 3:40 in the afternoon and then going on the train after. You wouldn't be able to cross the park to get there.
So plan your next ride when you join the ride and discuss options. This concept is really great if you are in a group. You can all talk about what you'd like to all go on, and the best "plan of attack." Here is a list of all the rides at the park!
 3. 
Plan your next meal
With so many amazing options for places to grab a bite to eat, it can be pretty overwhelming to know what you'd like to eat! Do you cross over to the Chuckwagon? Do you circle back to the Pizzeria?! There are so many options!
You need to save space for a big scoop or a funnel cake! So again, make sure that you keep this in mind in between your park planning and line waiting.
Maybe a nice sit-down meal at Lindy's?!
Whatever you decide on, making a plan is always good. You can find all the food venue options here  or a foodie guide here 
 4. 
Snacks
Hey, NEVER underestimate eating snacks in line.
They've got popcorn, funnel cake, caramel apples, and personal pizzas?! (Do personal pizza's count as a snack? I don't know.) Fudge?! Giant pretzels…. Mmmmmm…. cotton candy. The Panhandle Lemonade (Also, I think we need to comment down below to vote on whether or not the huckleberry or the strawberry lemonade is better). What I'm saying is… You've got some options!
Just a fun little side note, in England, cotton candy is called "Candy Floss," and in New Zealand, it's called "Fairy Floss." You didn't know?! Now you do. If you ever win a million dollars with this information. Remember me.
5. Play games, all sorts
We took a lot of road trips as children in my family. I definitely adopted some of these games to play in the lines with our kiddos.
Think games like "Eye spy," "Thumb war," "20 Questions", "True Story," "Common Quality," etc.
Simple games, such as word games, are great because everyone in the family can enjoy them, regardless of age.
You could even play park-specific games like "20 Questions" based on the Silverwood attractions!
You could even reveal the next attraction you'll go on that way!
So there you have it! Here are 5 tips and tricks to avoid being "bored" in line!!
Meet The Conductor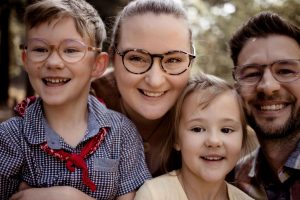 Hi! I'm Hannah! I have a family of 4, hailing from all corners of the globe, we've traveled the world with our kids, and constantly encourage our children to try new things, and experience new things. Enjoying in the little details is just as important to us as enjoy life's major milestones. We've recently moved to America from New Zealand. We have a passion for family, and encouraging family to spend time together. To truly be a unit. I lived 21 years in England, then 10 years in New Zealand, My husband Devin lived 18 years in South Africa, and then 18 years in New Zealand. Our kiddos were born and raised in New Zealand, and don't ask us what our accents are. They just awkwardly change mid conversation to suit the subject for no apparent reason. We love food, family, and theme parks. So with Silverwood, it's a match made in heaven!