When we plan a trip to Silverwood, we start sharing all the rides we want to ride – usually in order. Making a grand plan for the day, we will spend there. But, I secretly pencil in my plan of attack to stop by Sugar Shack and get my favorite dessert of all time – FUNNEL CAKE!
It is so hard to resist that delicious smell of fried dough and sugar. My head starts to daydream of that powdered sugar goodness that is topped with a mountain of whipped cream. Silverwood Theme Park knows the perfect serving sizes of yummy treats! Sometimes, I will be a nice mom and get the kids their own, but most of the time, they want the biggest ice cream cone they can carry, leaving me alone with my funnel cake to enjoy! I laugh as I walk by the forks they offer because, to me the best way to eat a funnel cake is to just dig in with your fingers. I start picking pieces around the outside, getting larger pieces with that delicious whipped cream on them till I get to the doughy middle. At this point, if I was a cartoon, you could see hearts and stars floating above my head to describe the heavenly state I am in. 
Did you know that Funnel Cakes have an interesting history? Check out some fun facts I found on this must-have treat during your day at Silverwood Theme Park.
**Powdered sugar is the traditional topping but did you know in medieval times, when they used yeast or sourdough batter, they would actually pour sugar syrup on the cakes and then sprinkle a little salt on top? That sweet-and-sour contrast actually sounds pretty interesting.
Fast forwarding to the nineteenth century, these cakes became a treat people typically enjoyed only during the winter holidays. Still, they would soon become a popular treat enjoyed any time of the year.
In the US, funnel cakes were originally associated with Pennsylvania Dutch Country. It is one of the first North American fried foods, which is associated with the Pennsylvania Dutch and German immigrants who came to Pennsylvania in the 17th and 18th centuries.
The name "funnel cake" was derived from the method of squeezing batter through a funnel in a circular pattern into hot oil to achieve a dizzying pattern of crispy-fried dough.
Although the funnel cake seems so iconically tied to the Dutch and now to American carnival food, there are variations of this dessert throughout many other cultures. Churros, made popular in Spain, are cylinders of deep-fried dough pressed through a star-shaped extruder. Beaver-tails are popular in Canada and are oval-shaped fried dough, much like the Elephant Ear. Brazil has bolinho de chuvas, France has bugnes, and Portugal has fartura; all of these are variations on fried, sweetened dough. It is hard to say exactly where funnel cakes are from when every culture seems to have latched on to the greatness of this sweet treat.
Whoever was the originator of the funnel cake, we thank them by continuing this tradition and bringing awesome funnel cakes to our bellies. Some places have taken funnel cakes to a new level and offer not only the traditional powdered sugar funnel cake but some other great variations. Try the peach cobbler funnel cake or the strawberry funnel cake to mix in some fruity goodness. If you are feeling really daring, Silverwood Theme Park has the fruitfutti that is topped with ice cream and sprinkled with fruity pebbles cereal! There are even places that make peanut butter and jelly funnel cakes. There are also chocolate and Nutella funnel cakes you can find in certain places.
No trip is complete to Silverwood Theme Park without going home with your belly filled with their oh-so-yummy funnel cake. During our recent visit to the park, the kids chose their own funnel cake. When they were younger, we used to play this silly game called Pig Party. They had a dessert they had to eat, but they couldn't use their hands. To keep things a little more politely while we were in the park, we decided not to go that crazy, but we did a challenge once they were all done eating their funnel cake. 
2 brothers challenged each other in the rock, paper, scissors challenge, with the loser letting them get a funnel cake to the face. I have never seen my kiddo react faster than winning his hand at that game to smash his brother in the face!
I have tried making these at home and never successfully created a perfect funnel cake. But that is ok, and it gives us another reason to take a trip to Silverwood.
What is your favorite funnel cake at Sugar Shack? 
Meet The Conductor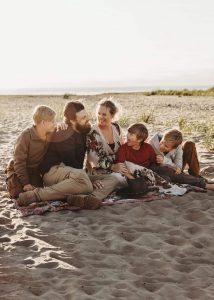 Hello! My name is Jackie. I am married to a handsome handyman, and I'm the proud momma of 5 kids. About 13 years ago, I started my photography business, Jax Creations Photography. A couple of years ago, I started a family website called Wanderful Memories. I use this site to share ways other families can document moments in life through travel and lifestyle. A fun fact about me is that I love to cook/bake for others, and I throw a great dance party in the kitchen (when no one is around to watch my awesome dance moves, of course)! There are many parts of Silverwood that I enjoy, but if I had to narrow it down, it would be riding the Tilt-a-Whirl with my boys. I love to hear them belly laugh! My family enjoys visit Silverwood multiple times during the summer with season passes — it is the perfect way to split up the summer days by visiting the water park or getting their adrenaline going on a roller coaster.