Which rides will you want to ride when you come to Silverwood Theme Park? Well, that depends on how much of a thrill-seeker you are! The park boasts over 70 rides to choose from, so there's no shortage of fun to be had, no matter what speed you're comfortable with.
Before You Come to the Park
It's a good idea to know the height-limits of the rides before coming to the park (plus knowing the height of those in your party) to avoid any built-up hopes of riding a ride, only to be told you're not tall enough. This happened to our 5-year-old who was crushed when he couldn't ride Corkscrew, the first roller-coaster he wanted to ride!
You can read this post for the ideal day at Silverwood with multiple age ranges, or this post for everything your teen wants to know about the park.  
What Rides Can My Child Ride?
Head on over to the Silverwood website and filter out the rides your child can ride based on their height!
And, if you want to see all the details of the rides, you can filter out rides by intensity here.
How to Help a Nervous Rider
With kids ranging in age from 15 down to 1, we've got all kinds of riders. Those willing to jump on any ride, any speed, with no fear whatsoever. Others who are a bit more timid, but willing to trust their siblings to build them up from ride to ride, only hitting the most intense rides once they're ready.
Rides for Young Kids
When travelling to Silverwood with younger kids, especially those too short to ride the high intensity rides, head on over to Critter Camp where they'll be able to test their love of roller coasters on some smaller, more approachable rides. 
I always suggest starting with something like the Puppy Go-Round or the Kiddie Wheel. If your kiddo is happy on these rides, go up a little in height by giving the Red Baron (or Helicopters) a try. These rides still go fairly slow, but your child can decide if they want to go high up in the air! This should give you a good idea of how much "thrill" your child likes. 
From there, step it up in speed by trying the Tiny Toot Roller Coaster, this ride not only goes faster, but it's a continuous circle, so it'll see how much your kiddos tummy can handle!
If that's a go, you can try any of the remaining rides in Critter Camp. Before moving to the bigger rides, I like to take my kids on both the Frog Hopper and the Krazy Koaster, the Frog Hopper will test your child's love of fast drops (you know, the kind where it feels like your stomach is in your throat), and the Krazy Koaster goes fast in a figure 8, plus each car spins around and you really get the feeling of the pull of a coaster's speed.
Beyond
Critter Camp
If you're visiting Silverwood with a theme park novice, but not necessarily a child, we still recommend starting smaller and slower, just to be sure how much of a roller-coaster junky they are. Any of these low-intensity rides would be fantastic:
Next Level Rides
The next three suggestions take the level one bit higher in intensity and speed, and I definitely don't recommend trying Panic Plunge just after eating a large meal! 
The Most Intense Rides in the Park
Finally, if you've conquered your fears of all the rides above, it's time to master the rest! These coasters are the fastest, tallest, or craziest in the park!
Which Ride Will You Try First?
On your next visit to Silverwood, which ride will you try first? Stay tuned as my family is gearing up to take a "Ride all the rides in the park challenge" to see if we can mark each ride off our list for the ULTIMATE day at Silverwood!
Looking For More?
If you'd like to learn more about Silverwood, check out my other posts on the Silverwood Express Blog:
Meet The Conductor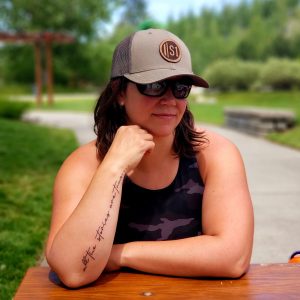 Kelsey Steffen is a wife, mom, and entrepreneur living in beautiful North Idaho. She has five rambunctious, loveable kiddos who bring excitement and joy to her every day. She and her husband, Jason, own Smalltown Design, LLC, a web management company, and they are blessed to be able to work from home and homeschool their kiddos. They also have a blog called Full of Days where they share (mostly) healthy recipes that fuel you to live a long life, "full of days". It's up for debate, but she's pretty sure the Lazy River at Boulder Beach is one of the best places on earth!"